SEARCH
OF SPECIAL INTEREST
* Hand-Finished PatchWork Plants
* Garden Leader® Plugs
* Quilt Garden Liners
* Begonia Liners
* Fuchsita® Fuchsia Liners
* Proven Winners Four Star
* Quilt Block Combos
* FotoFinish™ Petunias
* Nursery Stock
* Fast Finish Geranium
* Raker2 Liners
* Surfinia® Heartbeat Petunias
* SuperCal® Petunias
* Mojo™ and Moxie!™ Geraniums




Tasty® Brand SCORCHERS® Hot Peppers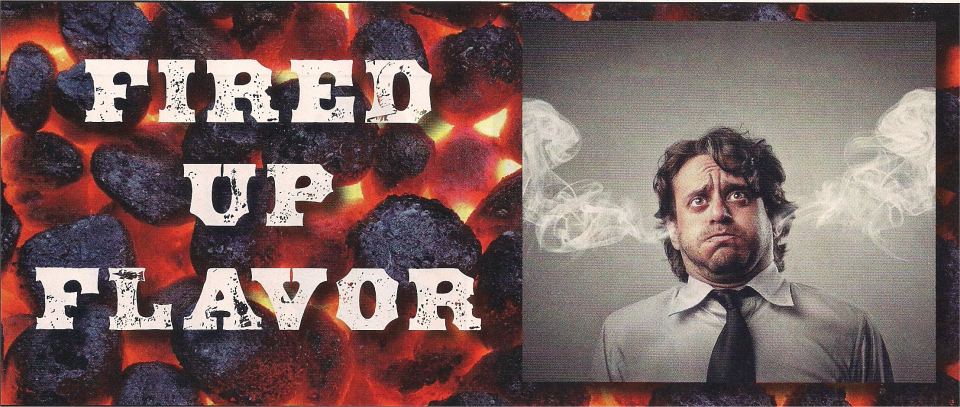 Tasty® SCORCHERS®

Scorchers® are the HOTTEST Peppers around! Chosen for their high value on the Scoville scale, a measurement of the concentration of capsaicinoids, among which capsaicin is the most prevalent, Scorchers® are sought after by many growers and consumers for their ability to transform any dish into a spicy extravaganza.

---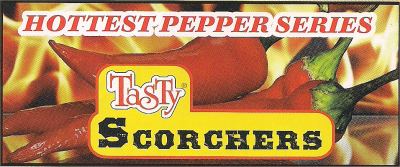 Category: Pepper, Hot
Botanical Name: Capsicum annum
Germination: 85°-90°, cover, 10-14 days
SEED PER OZ: 3,400-4,950
CROP TIME: 8 weeks to transplant
---
HOT PEPPER SHAPES:
Hot Peppers varieties are sorted alphabetically by fruit shape. They range in pungency depending on variety.

Anaheim: broad shoulder slowly tapered to a pointed tip.
Asia: round and slender taper to a pointed tip.
Banana: medium shoulders, smooth walls with a slight taber to a solitary blunt tip.
Bell: broad shoulders slow or no taper to a blocky, 3 to 4 lobed tip.
Cayenne: narrow shoulders with a fast curled taper to a pointed tip.
Cherry: round, sometimes with a short, pointed tip.
Chili: narrow shoulders with a fast taper to a pointed tip.
Habenaro: narrow shoulder, dented and curled walls tapered to a pointed tip.
Jalapeño: smooth bullet shape.
Serrano: similar in shape to Jalapeno but more narrow with a taper at both ends.

SCOVILLE HEAT UNITS: A measurement of relative hotness among peppers. Pure capsicum measures 15,000,000 Scoville Units. Police grade pepper spray, 5,000,000. Jalepeno Peppers about 2,500.,
HOW MAY WE HELP YOU?
Get Email Updates
Sign up for news, events, specials and be first to learn about Grimes Exclusives.
Request A Catalog


We'll be happy to send your our catalog and/or those of our plant vendors.
TASTY® BRAND
Tasty® Brands offer the best-tasting varieties according to our extensive consumer research.

Tasty® Asian
Tasty® Vegetables
Bushel Busters®
First Pick®
Tasty® Patio
Tasty® Herbs
Tasty® Scorchers
FRESH MARKET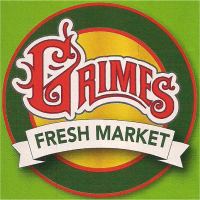 A tested selection of seed varieties proven to offer the BEST TASTING & MOST PRODUCTIVE Fresh Market produce.
ORDER | BROWSE | MORE
GREENHOUSE GROWERS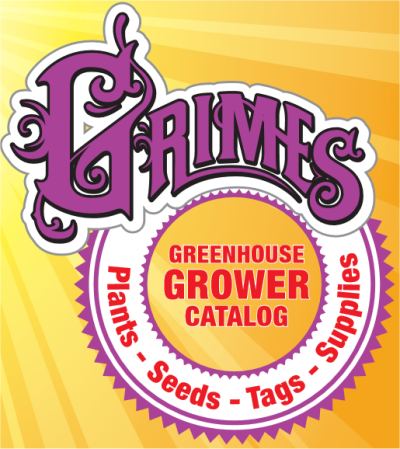 An extensive offering of seeds, cuttings, plugs, liners, pre-finished crops, nursery stock, tags and supplies.
ORDER | BROWSE | MORE
TRENDING